In Banyuls, the culture of the vine being the dominant economic activity with tourism, it is a beautiful soil to discover and more particularly around its wines. Many professionals will be delighted to show you the specificities of their products. With sun-drenched vines that are resistant to the winds blowing off the coast, it is a whole traditional know-how passed down from generation to generation that will awaken your palate with ancestral flavours.
The Côte Vermeille gives relief to the vineyard sites and allows time, patience and the mastery of the wine growers to produce the long-awaited fruit.
We have many addresses to visit for wine tourism excursions. As a reminder, we offer a tasting menu matching food and wine from our region thanks to a rigorously selected cellar and the advice of our winegrower partners.
The highest peak in Banyuls is 965 metres. The Banyuls pass, at an altitude of over 350 metres, is a cross-border crossing point between Spain and France.
It is possible to observe the "grotte trouée" by taking the sea towards Cerbère. It was once a storage place for smugglers.
The beach of Peyrefite and its underwater path towards Cerbère are a delight for diving enthusiasts.
The Arago laboratory, founded by the zoologist Henri de Lacaze-Duthiers in 1885, houses more than 250 species representative of Mediterranean aquatic fauna.
For a stroll, there is the village with its beach and the port. Only 300 metres from the hotel is the Troc Pinell cove.
To meet craftsmen and tradesmen, visit the vinegar factory "La Guinelle", the olive groves of Baillaury to discover the authentic olive oil of Banyuls, as well as the 19 wine cellars of the country.
For hiking, there is the "Sentier du Littoral" just a short walk from the hotel and the GR10. Horse riding is also available near Banyuls.
On the sea side, visit the Biodiversarium and for water activities, diving, fishing and water sports are on the programme.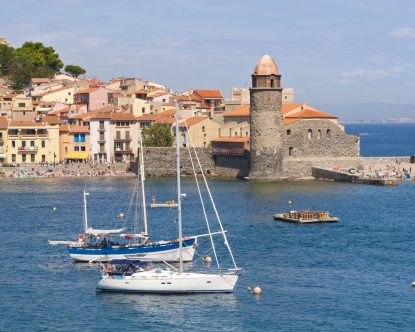 To spend a magnificent day where the colours of the sky and the sea merge, contrasted by the stones and the vegetation, go to the "jewel of the Côte Vermeille".
Port-Vendres, a town on the Mediterranean Sea, located south-east of Collioure and north of Banyuls-sur-Mer, is an absolute must-see, as it is the continuation of the Côte Vermeille.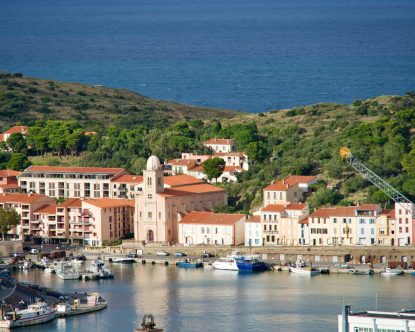 As a continuation of your journey on the Vermeille coast, cross the border into Spain and you will find yourself in Cadaqués, the pirates' refuge!